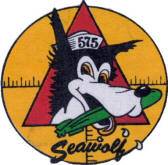 ColdWarSubmarines.com announces the release of the USS SEAWOLF (SSN575) post 1975 addition!
This model includes detail of the "50 Foot" section modifications. The model is constructed from cast resin with aluminum and brass scopes and masts.
The full price for the USS SEAWOLF (SSN575) is $495.00 plus $25 for shipping. Additional options include a "personalized" nameplate for $25.00 and an "Acrylic Display" case for $160.00 plus $22.00 for shipping.
Check it out at Google Photos!