<![if !vml]>

<![endif]>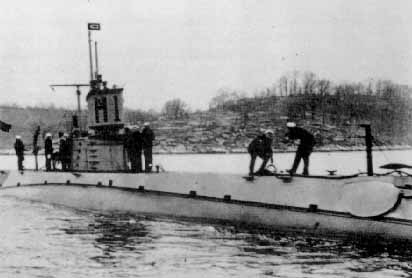 Click here to see more photos of the H-1 SEAWOLF
---
DISPLACEMENT *467 tons submerged
LENGTH *150 feet
BEAM *16 feet
SPEED *14 knots surfaced - 10.5 knots submerged
MAX OPERATING DEPTH *200 feet
ARMAMENT *Four 18-inch torpedo tubes forward
CREW *Approx. 25
LAUNCHED *May 6, 1913
COMMISSIONED *December 1, 1913
DECOMMISSIONED *Lost at Sea, March 1920
---
The keel was laid down by Union Iron Works, San Francisco, CA, on 22 March 1911 and Launched on 6 May 1913. She was sponsored by Miss Leslie J. Meakins. She was Commissioned on 1 December 1913 with LT. Henry M. Jensen in command.
The H-1, originally named USS SEAWOLF (SS 28), went aground on a tricky shoal off Santa Margarita Island on 12 March 1920. Four men, including her Commanding Officer, LCDR James R. Webb, were killed as they tried to reach shore. A Mare Island Naval Shipyard repair ship, USS VESTAL pulled the H-1 off the rocks on 24 March 1920, only to have her sink 45 minutes later in 50 feet of water. Salvage was abandoned and she was sold for scrap the following June.
Subsequent information found that H-1 had suffered an onboard fire and was intentionally grounded.
When being towed off the beach, it accidentally sank in 9 fathoms of water. The hulk was sold June 1, 1920 but never salvaged and was recently discovered by a diver in 1992.